Choosing from the long list of dog backpack hiking
harnesses
may not be an easy task. You can research many of the brands and styles online, but it helps to have a good starting point.
This review provides some excellent options from some top manufacturers. It will offer some insight into the features, pros and cons for 10 of the best dog backpack hiking harnesses in the market.
1. OneTigris Dog Hiking Backpack Saddlebag
This is a lightweight dog backpack hiking harness that is made of durable and water-resistant materials that will perfectly fit your dog. The One Tigris Saddle Dog Backpack is made of nylon and padded on the underside for comfort. The bag has two zipped side pockets that have a hook and a loop for easy closing.
Additionally, this backpack has a built-in waste bag holder ideal for carrying your dog's waste during your hiking expenditure. This dog harness backpack for hiking is among the few with a triangle-ring attachment for a leash and ID card window.
These unique features have made the OneTigris Dog Hiking Backpack one of the top purchases. If you are looking for a backpack and harness that will offer you supreme value for your money, look no further. This is the right product for you.
Triangle-attachment for leash.

Has an ID card window.

Low profile design.

Made of 1000D nylon for enhanced durability.

Two-top zipped pockets.

Ideal for dog hiking, backpacking or long trail walks..

Lightweight; net weight of 370g.
Why should you buy this...
Despite there being several options, you should buy the OneTigris Dog Hiking Backpack because of its durability. Its ruggedness makes it ideal for outdoor activities. If you are in the market for a dog backpack with a harness, then this option will definitely meet your needs.
Additionally, this dog backpack and harness has the added features to provide your dog comfort. The product is also affordable despite its many awesome features.
2. Kurgo Journey Air Dog Harness for Hiking
The Kurgo Journey Air Dog Harness works amazingly well for normal evening walks and long-distance hiking adventures. This backpack has a padded chest for comfort and back handles for easy handling of your dog. You also get to enjoy four adjustment points and four size options to offer a custom fit for any size or breed of dog.
The Kurgo Journey Air Dog Harness has a
D-ring
attachment that allows it to be used as a no-pull harness. You can be certain that you have firm control of your dog when using this harness. This makes this harness a top contender when choosing a hiking harness.
This hiking harness comes with a 10-inch lead line, which is excellent for training – if needed. The lead line can also be used as a doggy seatbelt while driving.
V-neck and padded for comfort.
Comes with a strong back handle with a steel nesting buckle system.
Ideal size and fit for all breeds of dogs.
Hassle and worry-free warranty against any manufacturing defects.
Fours adjustment points to offer a custom fit.
Dog-friendly and light weight.
Why should you buy this...
If you are looking for a hiking and climbing harness ideal for pooches 10-110 lbs, this is the right pack for you. Your dog will be comfortable thanks to the inner padding. This product is also fairly priced, considering its commitment to quality.
If you are looking for a budget dog backpack harness for hiking, then the Outward Hound Daypack is an excellent option. Though this product is reasonably priced, it has amazing features your little furry friends will love.
This dog backpack hiking harness has an adjustable saddlebag feature and expendable pockets for storing water and snacks while on your adventure. At full capacity it is still lightweight. It offers security features necessary in any harness. It is also convenient for any size dog. The best part is you get to enjoy all these features at an affordable price that you cannot afford to say no to.
Additionally, this backpack comes in two bright reflective colors, which makes it easy to see. It is available in three different sizes that are adjustable. The variation in size makes the product ideal for small and larger breeds of dogs.
Has a large storage space to hold all your essentials.
The breathable mesh material will keep your dog cool while you are on the go.
It's stylish and sleek design makes for a less bulky but highly functional dog backpack.
Strong and easy to adjust straps keep the backpack in place, and it has reflective piping for advanced visibility
Available in different sizes, which makes it easy to fit and attach.
Made of bright colors for great visibility.
Why should you buy this...
The Outward Hound Daypak is made of bright colors that provide great visibility. This will help you keep an eye on your dog, or make your pet easy to spot out in the wild. The breathable mesh also keeps your dog comfortable and deters skin irritations.
4. RUFFWEAR Front Range Dog Harness
The Ruffwear Front Range harness has a front and rear clip for comfort, control, and durability. The leash attachment is perfectly positioned for leisure walks, while the front leash attachment is meant to offer extra control during daily walks. This harness was made for outdoor training, which means it is a great option for hikes and outdoor adventures.
This harness comes in different sizes ranging from extra-extra-small (XX-Small) to extra-large (XL). The harness has four adjustable buckles to offer your dog a great fit. The Ruffwear Front Range harness is available in 8 different colors to fit your preference. This product is an all-time favorite for dog lovers due to the extra padding over the chest and torso to prevent chafing during long walks.
Your dog is also safe when wearing the Ruffwear Front Range as it has an ID pocket for identity information. The perfectly placed front-clip makes this harness ideal for no-pull training for dogs that pull and snatch.
Made for extended wear. Lightweight, durable and ideal for outdoor adventurers.
Has 2 leash attachment points- for additional control.
Extra padded for comfort.
Customizable fit with 4 adjustable buckles.
Easy to see day and night. Made with bright and easily visible fabric.
Why should you buy this...
This dog harness was made specifically for outdoor training. It is light, durable and comfortable. It is perfect for outdoor adventures or getaways.
5. Wellver Adjustable Dog Saddlebag Backpack
The Wellver Adjustable Dog Backpack is the perfect choice for the one looking for an inexpensive, lightweight and washable dog hiking backpack. This dog backpack hiking harness is ideal for outdoor hiking and long walks in the warmer months. It is made of breathable mesh that will keep your pet cool and comfortable. This dog backpack was made for dogs on the smaller size, so sizing is key.
Adjustable straps to offer a custom fit.
Two spacious pockets that provide plenty of space.
Available in several sizes – but still for smaller dogs.
Made of breathable mesh and has a soft lining.
Why should you buy this...
This backpack is durable and has ample storage for food, pet toys and water. It is made for warmer weather to keep your pup cool on the go. The price point is low, but the quality is high.
6. Lifeunion Polyester Dog Saddlebag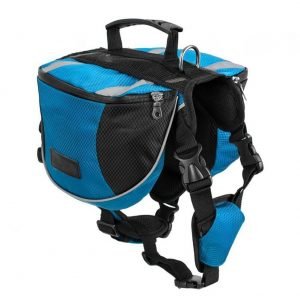 The Lifeunion Polyester Dog Saddlebag is lightweight, durable, and waterproof. This product is made of premium polyester and has adjustable straps to offer a custom fit. More importantly, it is padded to provide extreme comfort during any outdoor adventure. Additionally, you get large two-sided zippered pockets that will accommodate food, water etc.
This saddlebag has a rubber handle to provide control over your dog when needed. There is a D-ring attachment for a dog leash. The Lifeunion dog backpack hiking harness is an ideal option when hitting the trails.
Waterproof.
Buckle closure.
Rubber handle.
Why should you buy this...
This dog backpack hiking harness is padded to offer protection against bumps and any abrasions. It offers some of the largest carrying pockets of options in our list. The polyester material makes this option waterproof, which is ideal when you are trekking a long way from shelter.
7. RUFFWEAR Web Master Harness
The Ruffwear Web Master Harness is for those owners that enjoy hiking in more remote areas or climbing in higher elevations. This is one of the most secure dog harnesses for your pet offered from all the options in this review.
The harness has an extra strap around the belly area. This will keep your dog safe when maneuvering over obstacles like rocks and logs. It has a durable handle to lift your pup easily or provide you with instant control.
Has an extra strap around the belly for extra security.
Durable handle for easy lifting and control.
Available in bright colors for easy visibility.
Easy to adjust.
Why should you buy this...
The Ruffwear Web Master Harness is sturdy and strong due to the five adjustment points. Additionally, this harness has a slim built-in handle for control and lifting but does not get caught or snagged easily. The extra strap makes this harness supremely secure. This is a great option for rugged landscapes and hills.
8. Kurgo Dog Saddlebag Backpack
Kurgo is known for offering high-quality dog backpack hiking harnesses. The Kurgo Dog Saddlebag Backpack will meet all of your expectations and more. This backpack has adjustable side pockets that will hold all of your hiking essentials. It is lightweight and ideal for dogs between 30-85 lbs. It also has a padded handle when in need of controlling or directing your dog.
Comfortable and lightweight hiking backpack.
Padded handle.
Rear hook for leash.
Has a reflective trim.
Why should you buy this...
The Kurgo Dog Saddlebag Backpack is very durable. It has the carrying capacity for everything you and your pup need when hiking. This dog backpack is ideal for larger breeds. Moreover, you also get a lifetime warranty with your purchase.
9. PET ARTIST Tactical Dog Harness
The well-constructed PET ARTIST Tactical Dog Harness has two heavy duty metal buckles. The buckles are proof-load tested at 1000 lbs each. The quick release snaps are proof-loaded at 125 lbs each. The nylon quick release snap makes this harness easy and quick to fasten.
The PET ARTIST has a front leash ring attachment, which makes it a no-pull harness and trainer. It also features a secure middle handle and two end-point handles. The three handles will give the owner direct control over their dog.
This dog backpack hiking harness is extremely comfortable and ideal for service dog application. However, due to all of its features then it is also a great choice when out in the wild.
No pull, no escape harness offering easy control.
Comfortable, soft sponge breathable mesh .
Full coverage design for extra protection.
Easy on and off.
Made using the Molle system.
Available in adjustable sizes.
Why should you buy this...
The well-constructed backpack is highly durable and offers your dog extra protection. This harness was created to be a rugged service dog option. This makes it a great choice for your adventures outdoors, because you know it can take the abuse. The strong attachment points and control handles means it will give you great reliable control wherever you take your pup.
10. Outward Hound Denver Urban Pack Backpack
The Denver Urban Pack is trendy but durable. This backpack is not only stylish but is an excellent choice for urban adventures in and around the city. This backpack will keep your dog cool with its breathable mesh material. It is very secure with the included belly straps.
The dog backpack hiking harness features four storage compartments to keep all of your essentials for the day. It features a strong, sturdy and comfortable handle to give you the control you need when dealing with all the distractions of an urban environment. It has rear and front D-ring leash clips to accommodate a no-pull or regular attachment points.
Adjustable belly strap to maximize fit and balance.
Sturdy constructions.
Dual D-ring clips.
Made of breathable mesh material to keep your pup cool.
Stylish for moving around in the city.
Why should you buy this...
Not all hikes or adventures occur out in the wild. Sometimes your outings with your pup occur in and around the city. This stylish dog backpack will fit right in any urban environment and not look too rugged for the surroundings.
It is made of quality materials and has two leash points and a sturdy handle for maximum control. It also has two expandable pockets for storing whatever you need as you move around town.
Finding a quality dog backpack hiking
harness
or saddlebag for your outdoor adventures does not have to be complicated. You just need to choose one that best suits your dog and your requirements.
We hope you try out one of the mentioned products in this review because we believe there is an option for all types of dog owners. Each option has its own sense of functionality, and all are quality choices – regardless of price.
No matter which one you choose, just get out there and have fun with your furry friend!